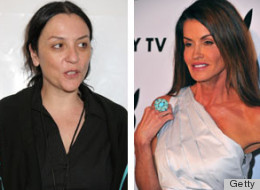 i love a good old fashioned dig. 
kelly cutrone (and if you don't know her outside of being an "america's next top model judge" you need to google her and really #getinvolved  she is one of the most powerful women in fashion) recently flat out called janice dickinson a "b*tch" on fashionista.com.  more specifically, "an erratic, unpredictable b*tch"
#burn
when janice was fired from "america's next top model" a few years back, she called tyra "soulless, heartless, and cold" 
#ouch
kelly has recently gotten closer with the fabulous ms. banks, and she thinks janice's comments are some bs.  she also said:
"last time i saw her on tv she was on dr. drew's celebrity rehab, so i'm not really going to take her as a credible source against tyra banks…if somebody puts you on tv, even if it's just for a year, you need to be thankful…i mean, what's her fu*king beef with tyra?  i think janice dickinson just needs to talk shit about tyra to get her name in the papers."
ok, den…i can dig it.  i don't know tyra, but janice is clearly one to do whatever it takes to stay relevant, so miss kelly may have a point. 
at the end of the day, does anyone, anywhere care about what janice dickinson thinks about anything? 
i'm thinking "no"…
that is all.  as you were…
i'm sure you have something amazing to add. click here to #getinvolved!