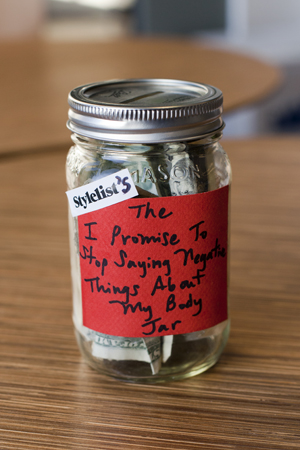 that is what one of my good friends, jerika, said to me a few weeks ago.  she was visiting dc with her beautiful children, and she wanted us to take an impromptu pic.  when she started to snap a candid of me, i remembered that i had been working all day, and i wasn't sure if my concealer had held up (lol).  so i quickly put up my hands and said "NO! i look a mess!" and she said with pure love and sincerity:  "you're a goddess, love yourself!"
i thought of this when i was reading this huffington post article about a woman who decided to fine herself for every negative thing she said about her body.  she goes even further, by donating $1 to charity for every positive comment a reader posts about themselves.  i love that.  
we really need to stop being so hard on ourselves!  but for real, i don't even want talk about the subtle changes i am starting to see as a result of aging!  chile.  it is humbling, at times.  everything that use to come so easy - clear skin, tight body - now requires WORK.  don't get it twisted, i am keeping it together…it's just not as easy as it use to be.
but it's all about perspective.  so when i start to get all crazy, i remember this quote:  "the longer we live, the more we know, and the more we know, the more beautiful we are."  this is so, so true. 
i also love a quote from "the divine secrets of the yaya sisterhood" - they were looking at old pics from when they were in their 20s, and one of the characters said, "…to know what i know now, and to have those thighs…" #church. 
i would not want to be 20 again, for anything!  although my thighs were more firm, and my tata's were slightly perkier -  i was dumb as a brick.  what was worse was that i didn't even know enough to know that i didn't know anything :) (drink it in)
so, thank you, my sweet, sweet jerika for always being such a light.  and reminding me of who i am.
say something positive about yourself in the comments section.  and in case no one told you today, you're f*ucking awesome. #lightandlove
that is all.  as you were…
i'm sure something amazing to add. click here to #getinvolved!